Starting Weight: 266
19-06-2013: 266.8
Milestones: 220, 199, 180, 150, 130
Goal Weight:130
I did not come up with any of these exercises or routines, I found all of them on pinterest. I am just pasting them all here so they are in one place when I work out.
Warm Up:
Stretch, 2:30 Jumping Jacks
Work Out: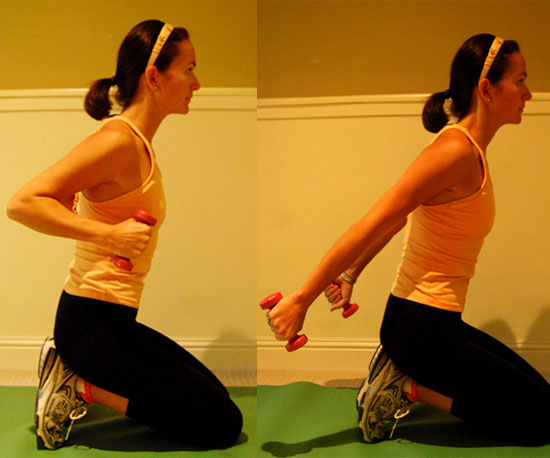 The Triceps Push
Put your arms by your side with your elbows bent. Extend the rest of your arms all the way back and squeeze your triceps. Do three sets of 10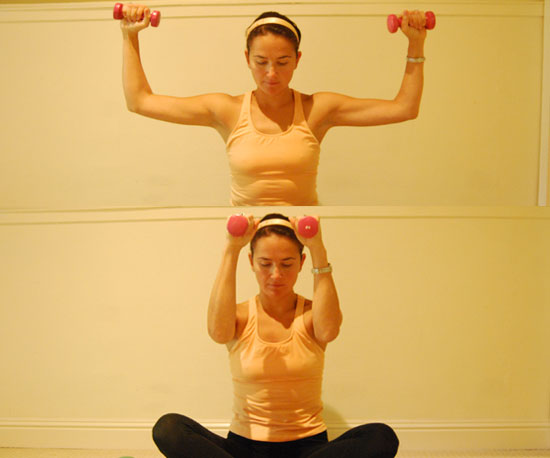 The Bicep and Deltoid Squeeze
Start with your arms out at a right angle with your wrists in line with your elbows. Move your arms in a straight line and bring them perpendicular to your shoulders. Do 10 counts and repeat for three sets.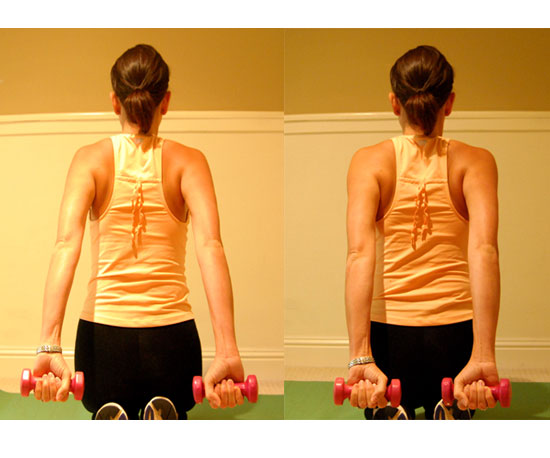 The Deltoid Back Squeeze
For a very small but effective exercise, place your arms behind you almost in a floating motion. Squeeze your arms together and release. Repeat for 10 counts and do two more reps.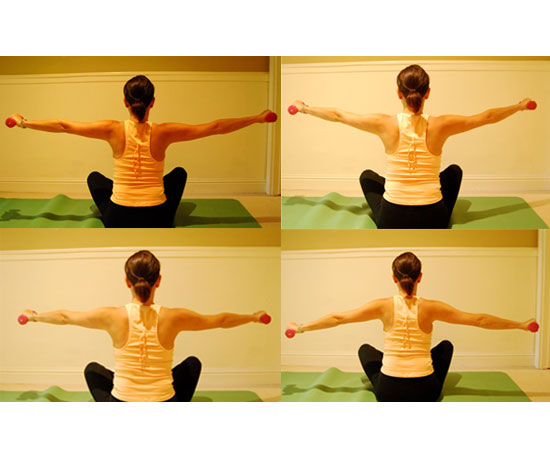 A lot of times we do a full rotation for our biceps. Instead of taking the exercise all the way, start with your arms out in front of you and slowly pull them up in a right angle. Release them back into the starting position and repeat for 10 counts. Do a full three sets.
Squaring It Off
Instead of wheeling your arms around without much effort, move your arms in a square motion making stops at each corner. Your deltoids will feel the burn. Do three reps of 10
A .
Place hands shoulder-width apart on bench. Balance on hands and balls of feet so body forms a straight line.
B. Bend elbows and lower body half the distance to bench (6 to 8 inches). Hold for 30 seconds, and then press back up to start. Do 3 to 5 reps.
A.
Hold a 3- to 8-pound dumbbell in each hand and lie faceup on bench (or on a mat on the floor) with knees bent, feet flat on bench. With arms out at sides, bend elbows so upper arms are at shoulder level and palms are facing forward.
B.
Contr
act chest and press weights up so that left wrist crosses over right. Lower to start. On next rep, cross right wrist over left. Continue alternating crisscrosses for 8 to 16 reps.
For this chest stretch, sit tall on bench with arms extended in front of chest, fingertips touching. Squeeze shoulder blades together and reach right arm up and out as left arm goes down and out so arms form a diagonal line (pictured). Hold for 30 seconds. Return to start and switch arm positions to repeat the stretch.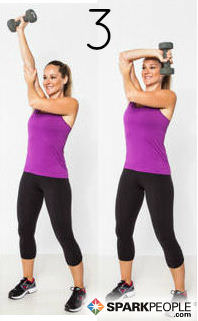 HIP LIFT PROGRESSION
Lie on your back with your arms at your sides with your knees bent and your feet on the floor.
Lift your hips toward the ceiling. Hold for 1 count, and then lower back down.
Repeat the lifts for 60 seconds, squeezing your glutes and hamstrings at the top of the range of motion. Be careful not to overarch your spine.
To make this exercise more difficult, extend one leg at the top of the lift. Keep your thighs parallel and hold the lifted position for about 5 seconds.
Keeping your hips up, place your foot back on the floor and then lower your hips.
Repeat this exercise for 30 seconds; switch sides and do the move for another 30 seconds on the other leg.
Toe Taps
The, um, lower, looser part of my
butt
takes a beating from this move. Thankfully.
Do it:
Lie on the floor with your arms on your sides.
Lift your feet, bending both knees to 90 degrees so your thighs are perpendicular to the floor.
Now slowly and quietly tap your left toes to the floor, then your right.
Alternate tapping feet for one minute.
If you feel any lower back pain, don't bring your toes all the way down.
Single-Leg Front Raises
Balance! A solid
thigh
stretch! Glute tightening! This is a multi-reward move that requires less coordination than you might think.
Do it:
Stand with your feet hip-width apart, holding a 5-pound dumbbell in each hand.
Bend your right leg and raise it about 3 inches off the floor.
Extend both arms in front of you at chest height and your palms facing down.
Keeping your arms straight, raise your left arm above your head and hold for 3 counts, then return to chest height.
Continue alternating arm raises until you've done 8 total, 4 reps on each arm.
Now switch legs, doing 8 more reps standing on your right leg.
Oblique V-Up
Lie on your side with your body in a straight line. Fold your arms across your chest. Keeping your legs together, lift them off the floor as you raise your top elbow toward your hip. The range of motion is short, but you should feel an intense contraction in your
obliques
.
10 repetitions each side [ Beginner ]
Saxon Side Bend
Hold a pair of lightweight dumbbells over your head, in line with your shoulders, with your elbows slightly bent. Keep your back straight, and slowly bend directly to your left side as far as possible without twisting your upper body. Pause, return to an upright position, then bend to your
right side
as far as possible.
6–10 repetitions on each side [ Beginner to intermediate ]
Speed Rotation
Stand while holding a dumbbell with both hands in front of your midsection. Twist 90 degrees to the right, then 180 degrees to your left. Keep your
abs
tight and move fast. Bring to center. Alternate the side you start with.
10 repetitions each side [ Intermediate ]
Two-Handed Wood Chop
Stand while holding a dumbbell in both hands next to your right ear. Flex your
abs
and rotate your torso to the left as you extend your arms and lower the dumbbell to the outside of your left knee. Lift it back, finish the set, and repeat on the other side.
10 repetitions each side [ Intermediate ]
Side Jackknife
raise your torso off the floor, with your left forearm on the floor for balance. Hold your other hand behind your right ear, with your elbow pointed toward your feet. Lift your legs toward your torso while keeping your torso stationary. Pause to feel the contraction on the right side of your
waist
. Then slowly lower your legs and repeat. Finish the set on that side, then lie on your right hip and do the same number of repetitions.
10 repetitions each side [ Intermediate to advanced ]
Single-Leg Standing Wood Chop